OVB makes strong start to its 50th year
| OVB Holding AG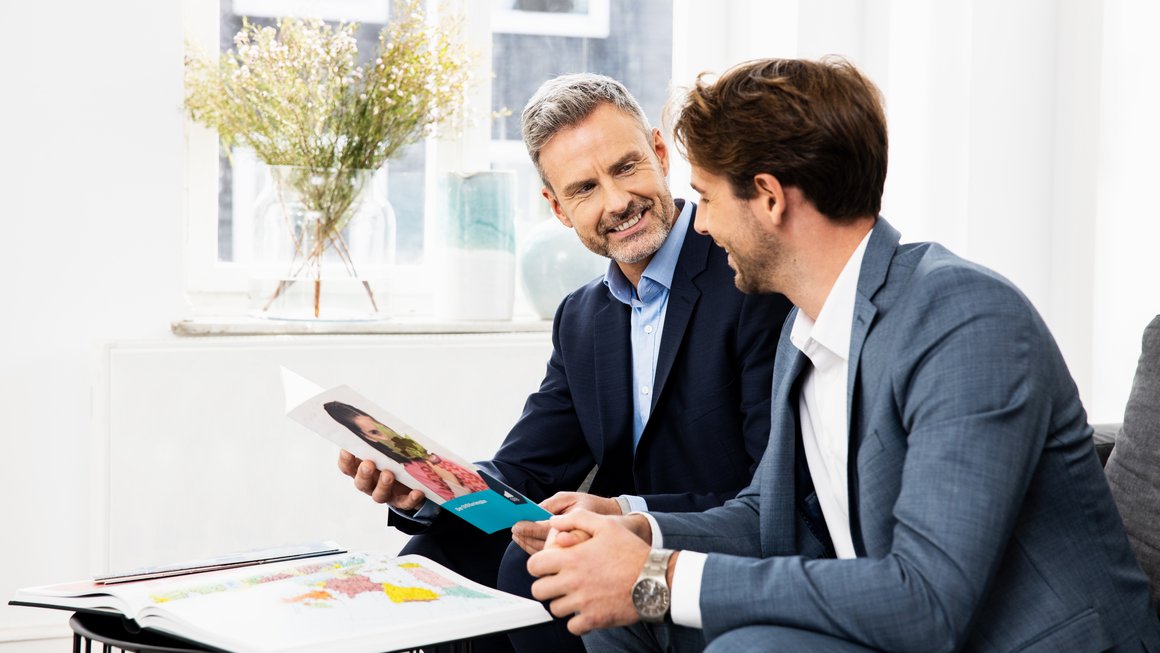 [Translate to english:]
Cologne, 30 March 2020. At the start of its 50th year, the European financial brokerage group is announcing strong figures for the 2019 financial year. With an 11.4% jump in sales to €257.8 million, OVB exceeded the forecast of a substantial rise in sales. Sales increased moderately to sharply in all three of the Group's segments.
OVB again significantly expanded its client base by 7.8% to 3.76 million. The number of financial advisors rose by 354, or 7.5%, year on year to 5,069.
OVB grew its operating earnings by 7.0% to €14.1 million, likewise exceeding the earnings forecast. Consolidated net income rose by as much as 14.5% to €11.0 million. Earnings per share reached €0.77 after €0.67 in the previous year.
"2019 was a very good year for OVB, with dynamic growth on a broad, European basis," says OVB CEO Mario Freis.
The Executive Board and Supervisory Board will propose to the Annual General Meeting on 10 June 2020 that it distribute a dividend of €0.75, as in the previous year.
Key figures in detail
In the largest segment, Central and Eastern Europe, brokerage income rose by 5.7% to €122.9 million. The Southern and Western Europe segment increased its sales by 31.7% to €73.3 million. Brokerage income also increased by 3.7% to €61.6 million in the Germany segment.
The EBIT contribution from the Central and Eastern Europe segment grew from €9.9 million to €11.1 million, surpassing expectations. EBIT in Southern and Western Europe declined from €6.2 million to €4.8 million, while operating income in the Germany segment was also better than expected at €7.9 million.
The Group has made good progress on the further implementation of the "OVB Evolution 2022" strategy. "Our strategic measures have increasingly had a positive impact on sales and EBIT," emphasises CFO Oskar Heitz.
Outlook for the year as a whole
Europe's economic development this year will be heavily influenced by the effects of coronavirus. In light of the prevailing uncertainty over its spread, duration and market impact, which cannot be estimated, we currently expect brokerage income and operating income to decline.
* Proposal to the shareholders for the Annual General Meeting on 10 June 2020
About the OVB Group
The OVB Group, with its holding company headquartered in Cologne, is one of Europe's leading financial advisory groups. Since being founded in 1970, OVB's business activities have focused on long-term, comprehensive and above all customer-oriented financial consulting for private households. OVB works with more than 100 high-performance providers and uses competitive products to serve its clients' individual needs, from subsistence and property/asset insurance to pensions and asset building and growth.
OVB currently operates in 15 European countries. 5,069 full-time financial advisors currently advise 3.76 million clients.
In 2019, OVB Holding AG and its subsidiaries generated total sales commission of €257.8 million and EBIT of €14.1 million. OVB Holding AG has been listed on the Frankfurt Stock Exchange (Prime Standard, ISIN DE0006286560) since July 2006.
Key figures of the OVB Group for financial year 2019
| | Unit | 2018 | 2019 | Change |
| --- | --- | --- | --- | --- |
| Key operating figures | | | | |
| Clients (31/12) | Number | 3.48 m | 3.76 m | + 7.8% |
| Financial advisors (31/12) | Number | 4,715 | 5,069 | + 7.5% |
| Brokerage income | € million | 231.3 | 257.8 | + 11.4% |
| Key financial figures | | | | |
| Earnings before interest and taxes (EBIT) | € million | 13.2 | 14.1 | + 7.0% |
| EBIT margin | % | 5.7 | 5.5 | - 0.2%-pts. |
| Consolidated net income after non-controlling interests | € million | 9.6 | 11.0 | + 14.5% |
| Earnings per share (basic) | € | 0.67 | 0.77 | + 14.5% |
| Dividend per share* | € | 0,75 | 0,75 | ± 0.0% |
* Proposed for 2019
Key figures by region for financial year 2019
| | Unit | 2018 | 2019 | Change |
| --- | --- | --- | --- | --- |
| Central and Eastern Europe | | | | |
| Clients (31/12) | Number | 2.39 m | 2.52 m | + 5.8% |
| Financial advisors (31/12) | Number | 2,752 | 2,919 | + 6.1% |
| Total sales commission | € million | 116.3 | 122.9 | + 5.7% |
| Earnings before interest and taxes (EBIT) | € million | 9.9 | 11.1 | + 12.5% |
| EBIT margin | % | 8.5 | 9.0 | + 0.5%-pts. |
| Germany | | | | |
| Clients (31/12) | Number | 616,775 | 612,982 | - 0.6% |
| Financial advisors (31/12) | Number | 1,333 | 1,295 | - 2.9% |
| Total sales commission | € million | 59.4 | 61.6 | + 3.7% |
| Earnings before interest and taxes (EBIT) | € million | 7.1 | 7.9 | + 11.1% |
| EBIT margin | % | 11.9 | 12.8 | + 0.9%-pts. |
| Southern and Western Europe | | | | |
| Clients (31/12) | Number | 481,283 | 619,374 | + 28.7% |
| Financial advisors (31/12) | Number | 630 | 855 | + 35.7% |
| Total sales commision | € million | 55.6 | 73.3 | + 31.7% |
| Earnings before interest and taxes (EBIT) | € million | 6.2 | 4.8 | - 22.1% |
| EBIT margin | % | 11.2 | 6.6 | - 4.6%-pts. |