Remote work abroad: from deckchair to hammock with your laptop
| OVB Holding AG
The key facts about remote work abroad
reading time: ca. 4 minutes
In addition to career opportunities and a healthy work-life balance, flexible working models are important to employees.
There are significant differences in remote work in and outside the European Union.
The equipment has to be well prepared in order to be able to work abroad optimally.
From a fiscal perspective, there are special rules that digital nomads must observe.
Taking a walk on the beach in the morning before work, having breakfast at the pool bar and then looking for a quiet spot with your laptop. Just following the motto "work where others are on vacation". Remote work abroad is discussed in many companies, but it isn't possible in every profession.
Beyond Corona pandemic, many companies want to remain with the concept of mobile working. Having a flexible work location is becoming increasingly crucial for employees. Going through the feeds on LinkedIn and Xing, we constantly see people who implement remote work on Mallorca or in Bali. Mostly, however, these are coaches or employees of digital companies.
Remote Work in the European Union
What has become increasingly important to employees during Corona pandemic?
LinkedIn surveyed more than 700 million users of its network. The result is: career opportunities and a healthy work-life balance are most important to the majority of the employees. In third place, flexible working models, including remote work, are the top priorities.
Remote work is flexible and location independent work. It can be done from home, in the office or anywhere in the world. But it's not quite that simple. Two factors are crucial: Should the work take place in or outside the EU? And for how long does the employee want to work abroad?
If an employee wants to work in Italy for a week, it is easier than four months in Bali. If you want to work temporarily in an EU country, the A1 certificate is valid. It ensures that you remain insured in your home country and don't have to pay social security in two countries. However, as soon as you work in one country for more than three months, you have to pay social security in that country.
The standardized structure makes it easier to work within the EU countries. However, IT security and data protection nevertheless have to be ensured at the workplace of choice. Remote working is already not easy in the EU, and even more complicated outside the EU. Each country must be individually reviewed by the employer and the employee.
How to prepare for working abroad
Before you can start working abroad, some issues should be clarified. At the place you want to work, there should be a suitable desk. And the most important issue: safe and fast WiFi. You need to establish a set-up in which you can work at the same level as you work at your desk in the office.
Usually it's a temporary apartment where you can work mobile or a co-working space with good technical equipment. The advantage is that you will meet other people and most likely see them again. This allows you to build up a social network.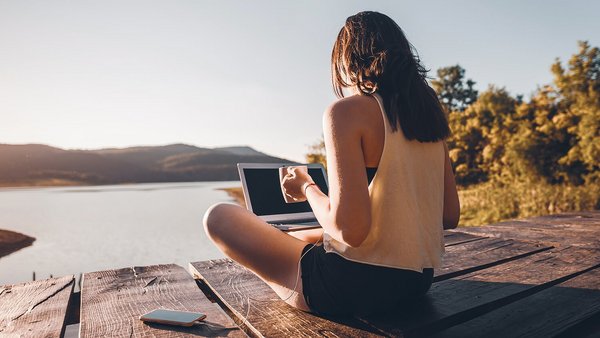 There are a few points that need to be written down with your employer in order to be able to work remotely. The questions should cover:
For how long will the work be done remotely?
Which country is covered by the agreement?
Which work equipment does the employer provide?
When and how can the employee be reached?
How are data protection and IT security regulated?
How will the working time be documented?
What social security and tax issues need to be considered?
Under what circumstances must the employee return earlier than planned?
Taxes: These rules apply to mobile working abroad
One issue that should not be forgotten when working abroad on a mobile basis: Taxes. In general, the 183-day rule is valid. It states that we are allowed to work and receive salary in another country for 183 days without paying taxes in this country.
Only when employees work abroad for more than six months they have to pay taxes in that country. Many countries have signed double taxation agreements with each other, which sometimes calculate differently whether and when taxes are due. Therefore, taxes must always be checked in the individual case.
It is recommended to coordinate all issues closely with the employer. Employees must obtain approval for temporary mobile working abroad.
Workation - Favorite places for digital nomads
Workation? That is a special version of remote work. People work half the time and take a vacation the other half. This form of work has become increasingly popular in the last few years. Where do digital nomads prefer to live? Which home office spots abroad are most recommended?
The classics are Chiang Mai in Thailand or Bali in Indonesia. Here, the cost of living is low and everyone speaks English. There are numerous co-working spaces where peers work. However, since these two destinations are not within the EU, the options are limited and must be carefully coordinated with your employer.
Each person has to decide what is most important to him or her. Of course, if the cost of living in the destination is low, we save money and can afford more. In the end, the feel-good factor matters. Good food, nature or the sea nearby can contribute to this. It doesn't matter whether it's Ibiza or Cape Town.