OVB Annual General Meeting: Look back at a successful 2020 financial year and dynamic start to 2021
| OVB Holding AG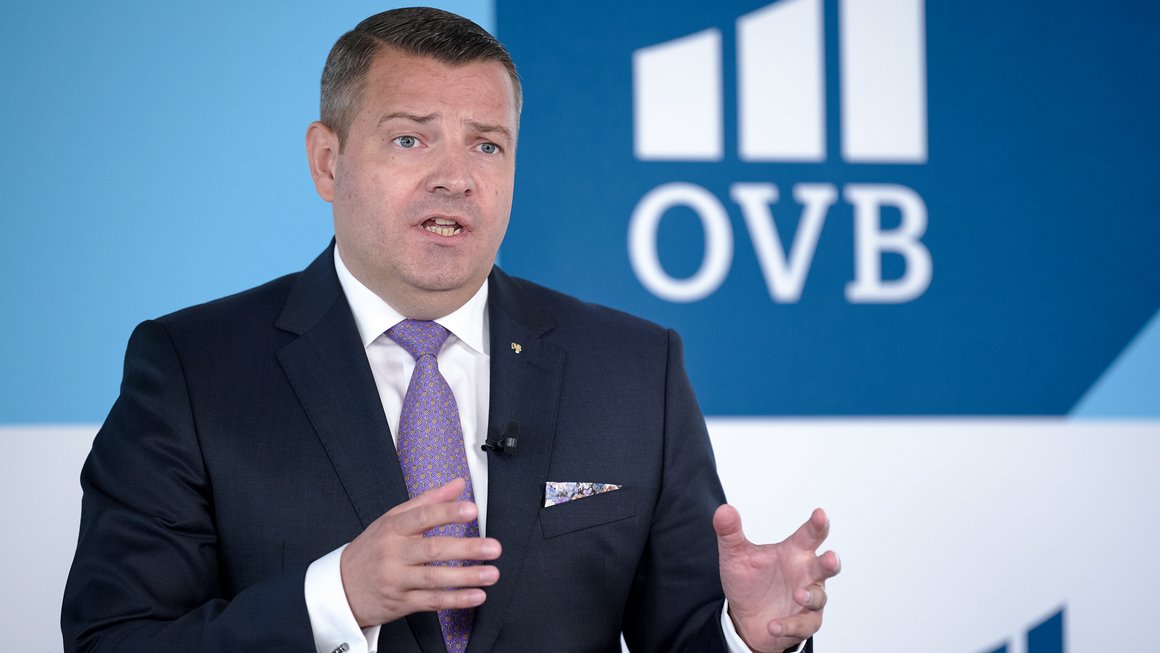 [Translate to english:]
CEO Mario Freis explains the reasons for the strong performance across Europe in a challenging environment
All items on the agenda approved by a huge majority
Julia Wiens elected as new member of the Supervisory Board
Cologne, 9 June 2021. At today's virtual Annual General Meeting, OVB Holding AG shareholders approved all items on the agenda proposed for resolution by a vast majority. The votes cast represented roughly 97% of the share capital.
Shareholders approve a dividend of €1.00
A large majority of shareholders followed the recommendation of the Executive Board and Supervisory Board to pay out a dividend of 75 cents, plus a one-time anniversary bonus of 25 cents, per share for the financial year just ended – which also happens to be the company's 50th anniversary.
At the same time, the shareholders elected Julia Wiens (51), Chief Financial Officer of Basler Versicherungen, as a member of the Supervisory Board. She is the successor to Maximilian Beck, who has stepped down from the Supervisory Board, effective as of today's Annual General Meeting.
A large majority also voted to approve the actions of the Executive Board and the Supervisory Board, appoint the auditor and make amendments to the Articles of Association. On other items, the Annual General Meeting approved the remuneration system for the members of the Executive Board and the Supervisory Board.
Strong performance across Europe in a challenging environment
Mario Freis, the Chief Executive Officer of OVB Holding AG, first took a look back at a successful financial year in 2020, explaining the chief reasons for it: "OVB is adaptable, flexible and capable of reacting quickly and effectively to challenging situations".
After the pandemic began, OVB quickly managed to continue its operations in digital and contactless form. "This was extremely important as our customers were in urgent need of our consulting services throughout Europe," said Freis.
With 17.7% revenue growth in the first quarter and a significant increase in profitability (EBIT margin: 7.5% compared to 5.9% in the previous year), OVB has also gotten 2021 off to an extremely positive start. "The pandemic caused people's need for qualified one-stop financial consulting to soar higher. The fact that more and more people are placing their trust in OVB makes us proud and affirms our approach of broad-based, personal consulting," explained Freis.
Addressing shareholders, the CEO added: "Our strong balance sheet and liquidity give us sufficient scope for operating and strategic growth. In the years ahead, we plan to expand in our existing market and into new markets."
For the year as a whole, the Group stands by its forecast of a sharp increase in brokerage income and operating income (EBIT).
The members of the Supervisory Board of OVB Holding AG are Michael Johnigk (Chairman), Dr Thomas A. Lange (Deputy Chairman), Markus Jost, Wilfried Kempchen, Harald Steirer and Julia Wiens.
The members of the Executive Board of OVB Holding AG are Mario Freis (CEO), Frank Burow (CFO) and Thomas Hücker (COO).
The detailed voting results can be viewed at www.ovb.eu/investor-relations/hauptversammlung.
About the OVB Group
The OVB Group, with its holding company headquartered in Cologne, is one of Europe's leading financial advisory groups. Since being founded in 1970, OVB's business activities have focused on long-term, comprehensive and above all customer-oriented financial consulting for private households. OVB works with more than 100 high-performance providers and uses competitive products to serve its clients' individual needs, from subsistence and property/asset insurance to pensions and asset building and growth. OVB currently operates in 15 European countries. 5,358 full-time financial brokers advise 4.01 million clients. In 2020, OVB Holding AG and its subsidiaries generated brokerage income of €270.6 million and EBIT of €14.9 million.
OVB Holding AG has been listed on the Frankfurt Stock Exchange (Prime Standard, ISIN DE0006286560) since July 2006.