With a keen eye on the future: How we are dealing with the coronavirus crisis at OVB
| OVB Holding AG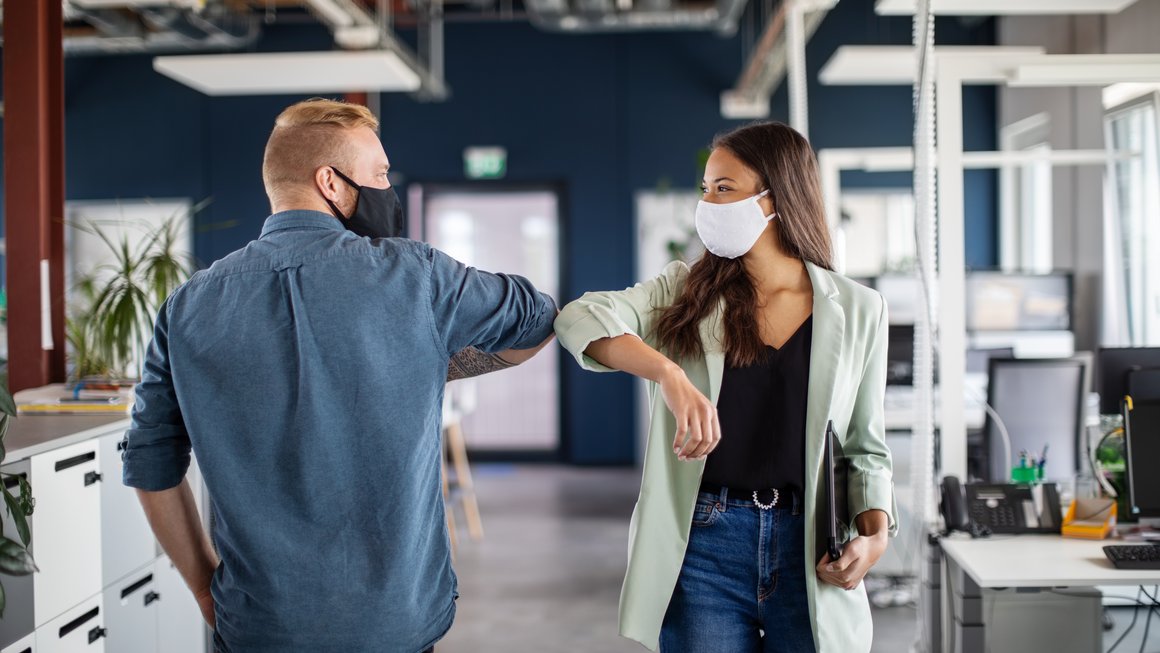 For more than a year now, we have been living in exceptional circumstances and the Covid-19 pandemic is still dominating our lives. It's important to us that we can still help our customers, even in these difficult times, but the safety of our employees and customers is always our top priority. We are focusing on the future and are convinced that OVB will come out of this crisis stronger.
As a company, we want to do our bit by helping to prevent the spread of Covid-19. For this reason, we have already implemented a wide range of measures to ensure that our employees, advisors and customers are well protected. As a further step, we have also made huge investments in the expansion of our digital infrastructure. The current situation is of course difficult, but we are at the same time viewing the crisis as an opportunity to develop as a company and to explore new ways of doing things. With our strong corporate structure and our highly committed workforce, we have been able to master new ways of achieving productivity and new types of collaboration. Our figures speak for themselves: we even managed to increase our turnover in the year 2020 in comparison to the previous year.
How we protect our employees and our customers
Since the beginning of the coronavirus crisis, we have been continuously striving to protect the health of our employees. It goes without saying that we have provided all our employees with face masks and have ensured that all local offices are equipped with contact-free hand sanitiser dispensers. We consistently apply all the recommendations of the WHO, we are investing heavily in new safety measures and we are making the necessary changes to our work processes.
As early as last spring, we made it possible for all our employees to work from home. To enable them to do this, we have procured all the required equipment and set up the relevant digital structures. Any employees who need to come into their branch office for work-related reasons, and likewise guests and service providers, are required to comply with the current regulations (maintaining social distance, hygiene measures, wearing a mask). Our offices are regularly disinfected and aired. Contact between persons is also kept to a minimum by only allowing a limited number of employees into the buildings at any given time.
In particular in times of crisis, there is great demand for financial guidance and support. We want to be able to help our customers even in difficult circumstances and have therefore put in place a comprehensive safety concept. Insofar as the current local regulations allow, we are offering consultations – with sufficient social distance, good ventilation and the use of face masks. If it is not possible to hold a face-to-face conversation, or if the customer would prefer not to do so, we can always offer the option of a video consultation. This means that our customers can stay safely at home and be offered the convenient option of receiving online advice to secure their financial affairs. There is currently a great deal of focus on ensuring financial security and especially on making provisions for the future.
Getting through the crisis digitally
The coronavirus crisis has seen the subject of digitalisation being thrust into the foreground. We are pleased to report that our employees have been able to master this challenge and are now successfully working together in digital teams. The digitisation of our work processes not only means investment by us as a company, it also requires the wholehearted commitment of our employees. Because working from home also means taking more responsibility for your own work and requires especially close dialogue within the teams via digital means.
In the past year, we have seen how successfully these new processes have been implemented by our employees. We have learned a lot about working together digitally and are convinced that we will reap the benefits of this in the long term. We see the acceleration of the digital transformation to improve productivity and achieve greater flexibility as a great opportunity to maintain our growth trajectory into the future.
We are growing – even in the crisis!
The year 2020 was not only the year of our 50th anniversary, it was also our strongest business year since the company was founded. The number of customers that we provided guidance and support for across Europe grew to around 4 million. Despite the challenges of the coronavirus crisis, we were able to increase revenues significantly, thereby proving that we are also capable of maintaining our steady course of growth during difficult periods.
At the same time, we also created quite a number of new positions in the course of 2020. The OVB Holding team was expanded, and we also significantly increased the number of financial advisors working for us. We are continuing to look ahead to the future with a positive outlook and, despite the restrictions due to the coronavirus, we feel confident that 2021 will be another successful business year.