Annual General Meeting of OVB Holding AG: Dividend of €0.90 confirmed
| OVB Holding AG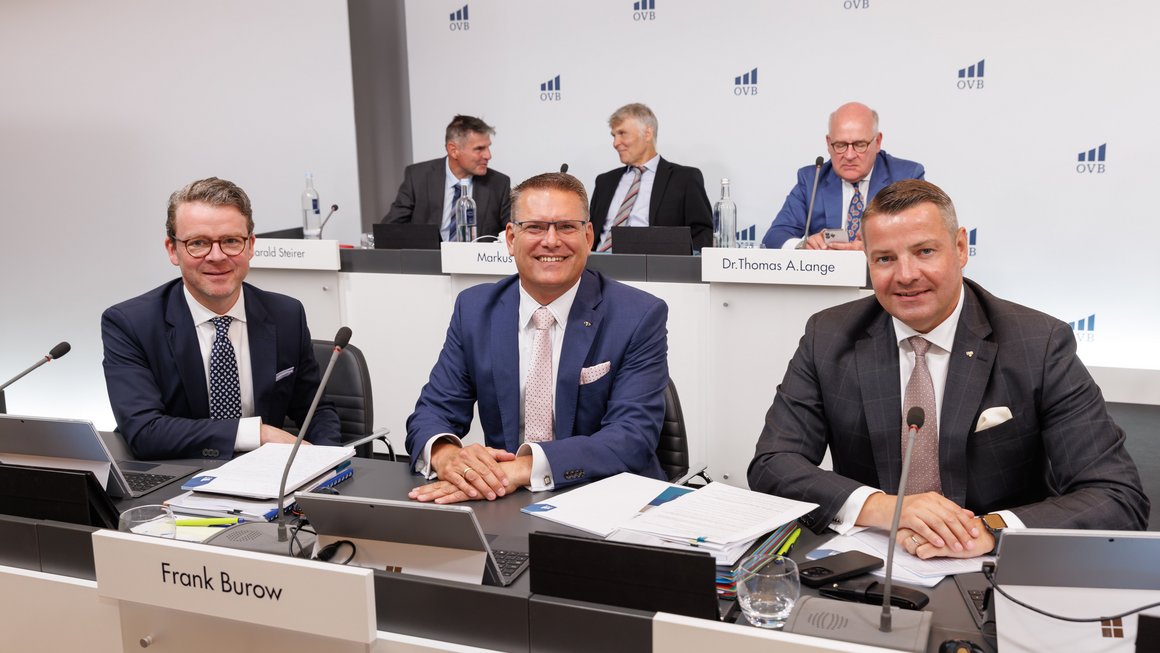 [Translate to English:]
Cologne, 14 June 2023. At today's Annual General Meeting of OVB Holding AG (ISIN DE0006286560) held at the Steigenberger Hotel in Cologne, all items on the agenda were approved by a large majority of shareholders. The AGM was held in person again for the first time following three consecutive virtual annual general meetings.
"OVB Excellence 2027" follow-up strategy set to bring further success
In his speech, Mario Freis, Chief Executive Officer of OVB Holding AG, addressed the successful 2022 financial year just ended and put OVB's positive performance into the context of the now completed strategy period:
"Over the past five years, we have continuously modernised and digitalised our company, made better use of our potential and pressed ahead with our expansion. We successfully steered our way through the past financial year despite the challenging conditions we faced. OVB achieved record sales yet again."
A further emphasis of the speech concerned the outlook on the follow-up strategy entitled "OVB Excellence 2027", which was developed in consideration of the current megatrends and comprehensive stakeholder consultations. With this follow-up strategy, OVB is focusing on four key topics – "Sales and Career Excellence", "Expansion and Innovation", "Operational Excellence", and "People and Organization".
Shareholders approve dividend of €0.90
The shareholders approved the distribution of a dividend of €0.90 per share. With 14,251,314 no-par shares entitled to dividend, this equates to a distribution volume of €12,826,182.60.
Furthermore, the actions of the Executive Board and Supervisory Board were approved, PricewaterhouseCoopers GmbH Wirtschaftsprüfungsgesellschaft, Düsseldorf was appointed auditor and group auditor in 2023, and KPMG AG Wirtschaftsprüfungsgesellschaft, Düsseldorf was appointed auditor for any audit review of the interim financial report for the first quarter of the 2024 financial year. In addition, the shareholders approved the remuneration report presented for the 2022 financial year and agreed to the amendment of the Articles of Association, which allows virtual annual general meetings to be held in future.
Elections were also on the agenda as the terms in office of all Supervisory Board members came to a natural end with the Annual General Meeting. The shareholders followed the company's recommendation, re-electing Michael Johnigk, Dr Thomas A. Lange and Julia Wiens and appointing Sascha Bassir, Roman Juráš and Torsten Uhlig, all proven industry experts and managers, to the Supervisory Board. The appointment shall be for a term in office expiring at the end of the Annual General Meeting that decides on the formal discharge of the Supervisory Board for the 2027 financial year.
Overall, 96.99% of the share capital was represented at the Annual General Meeting.
The detailed voting results can be viewed at https://www.ovb.eu/english/investor-relations.html. The OVB Holding AG Chief Executive Officer's full speech at the Annual General Meeting can also be found at https://www.ovb.eu/english/investor-relations.html.
About the OVB Group
The OVB Group, with its holding company headquartered in Cologne, is one of Europe's leading financial advisory groups. Since being founded in 1970, OVB's business activities have focused on long-term, comprehensive and above all customer-oriented financial consulting for private households.
OVB works with more than 100 high-performance providers and uses competitive products to serve its clients' individual needs, from subsistence and property/asset insurance to pensions and asset building and growth.
OVB currently operates in 16 European countries. 5,785 full-time financial advisors currently advise 4.27 million clients. In 2022, OVB Holding AG and its subsidiaries generated brokerage income of €331.9 million and EBIT of €22.0 million. OVB Holding AG has been listed on the Frankfurt Stock Exchange (Prime Standard, ISIN DE0006286560) since July 2006.